YACHT CHARTER IN

Andalusia
Boat rental in Andalusia, a service for you
Our agency offers you a boat rental service in Andalusia and is tailored to your needs. You will be able to select the option of having a skipper or sailing without one, based on a careful selection of yachts, sailboats, inflatables, houseboats, catamarans, and boats. In this way, you will enjoy sailing the Andalusian waters from the most important ports in the region, such as Marbella and Puerto Banús in Malaga, Sotogrande in Cádiz, La Herradura in Granada, El Rompido in Huelva and many other options.
Discover the best coastal landscapes of all Andalusia from the safety that being on a boat provides you, where privacy, serenity, and comfort are the protagonists. Get in touch with us and reserve your boat at the best price.
BOAT RENTAL IN ANDALUSIA:

Luxury and exclusivity
If you want to navigate the Andalusian coast in the most exclusive way, we have a fleet of yachts and luxury boats with all the guarantees, setting sail and arriving in the region's most prestigious ports. We put them at your fingertips, whether you want to enjoy a day at sea with your partner or if you want to surround yourself with your friends and loved ones.
Our boat rental service in Andalusia will also provide you with small models to enjoy an afternoon of recreational fishing or large ships with dozens of meters in length to celebrate an important event. For all this, we are your best option, because our purpose is none other than to offer you a stay as comfortable and pleasant as possible. Leave all the formalities in our hands and take care of the most important thing: enjoy the experience!
EXCLUSIVE BOATS IN

Andalusia
Why choose boat rental in Andalusia
Andalusia is a unique and privileged place, full of marinas and a great climate that allows navigation throughout the year. This region is considered one of the most famous sun and beach destinations globally, thanks in part to its more than 800 km of coastline and its wide variety of landscapes of extreme beauty, with beautiful sandy beaches, remote coves, and cliffs.
But another of the great attractions of the region are the excellent services and facilities it offers. Among them, its marinas stand out, where we manage this boat rental service in Andalusia. And around it, a wide range of hotels and restaurants, some of the best golf courses in the country, beautiful promenades, and great nightlife. All the necessary ingredients to enjoy your time once you have moored your boat!
The Mediterranean Sea bathes the Andalusian coast in its eastern part and by the Atlantic Ocean in the western region, which endows this coast with great wealth and variety of landscapes, allowing for countless routes and excursions. Thanks to its strategic location, it is possible to make routes and getaways to Morocco or visit the Portuguese Algarve.
In exclusive ports like Puerto Banús
Everything that surrounds the boat rental in Andalusia is linked, in many cases, to luxury. And so it can be seen in its marinas and marinas. For example, Puerto Banús, one of the most international and famous in the country and Marbella, is one of the preferred destinations for the international jet set. This recognition is not only due to the quality of its nautical activities since Puerto Banús is one of the most exclusive places in all of Spain, but also due to its spectacular luxury services. These range from large hotel chains and resorts, through private villas and properties, golf courses, luxury clothing stores of large firms, glamorous restaurants where you can taste the best dishes, excellent views of the environment, pleasure boats … and much more.
Luxury yacht and catamaran rental
In Puerto Banús, we offer you the best boat rental in Andalusia, marked by all models' luxury. Also, to complement your stay in this exclusive area, we will provide you with the most engaging experiences to enjoy your vacation to the fullest.
But our fleet of boats is distributed by the ports most demanded by premium tourists, such as Sotogrande, Puerto Marina, Puerto de la Bahía de Cádiz, Punta Umbría, Puerto de Málaga, Barbate, Estepona, Cabopino or Sancti Petri among others. And we are specialized in renting exclusive yachts and boats, with or without skipper!
Among the services of our fleet is a qualified captain of the highest professionalism, the possibility of adding a catering service, a private chef to cook on board, sailors and butlers to offer assistance on board or any other additional service you need with the objective to achieve the most comfortable and comfortable experience possible.
WHAT YOU CAN DO IN

Our boats
Through the boat rental in Andalusia, you can live countless experiences, and all of them very special. Of course, you can reserve your model for a few hours and just for the pleasure of sailing: the beauty of the coastal landscapes and the peace that you breathe over the sea are enough attractions to get you one of our boats.
However, you can also use this service to celebrate an event on board since we can provide you with the most varied functions. In Andalucía Exclusiva, we have a team of professionals who will be in charge of managing all the celebration details so that you have your great party on one of these boats.
We can take care of all the services you require on your boat, from transportation to the DJ, through light and sound equipment, cleaning, etc. We have a team ready to advise you at all times, before and during the celebration of your event. We will help you turn your celebration into something extraordinary that you will never forget!
Special mention deserves the catering service that is usually hired together with the boat rental in Andalusia. We have all kinds of menus with the best products and raw materials, guaranteeing quality, and freshness. Professionals who prepare the most innovative dishes and menus, ideal for all types of occasions: recreational walks, events, regattas, celebrations, lunches and gala dinners … and any other situation in which, in addition to enjoying the experience of the ride, you want to have the best gastronomy of the region on board.
And if the voyage is of long duration or you want to have maximum customization in the menus, we can offer you the services of a chef. It will make your culinary experience much more complete, exclusive … and tasty!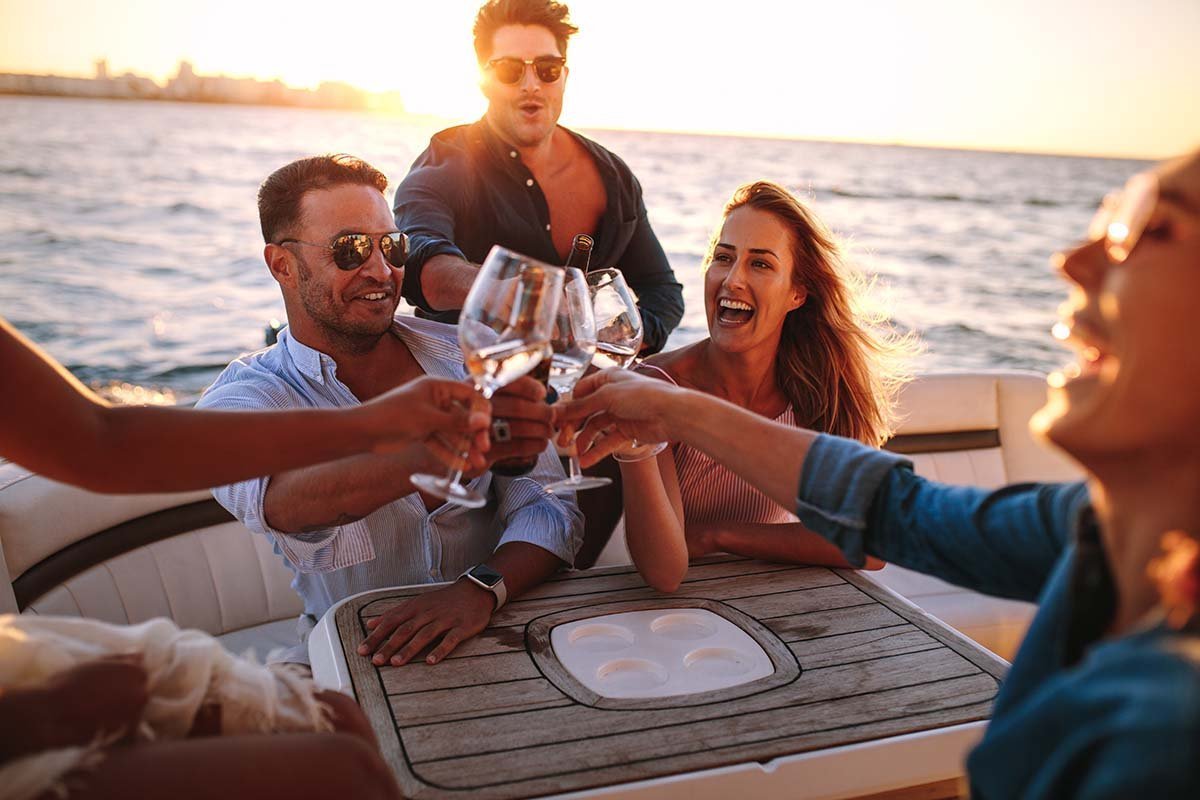 Examples of events onboard our ships
You can check the variety of events and celebrations that are compatible with our boat rental in Andalusia, here is a list of the most common ones.
Wedding celebration: can you imagine a more special place to say 'Yes, I do'? We do not! It is an ideal option to celebrate the most important day of your lives, privacy, and the people who matter most to you.
Bachelor parties: the step before your wedding can also be done onboard one of our boats. Nothing better than the sea and your friends to say goodbye to one stage and welcome another!
Honeymoons: our boat rental service in Andalusia covers the entire cycle of a wedding, including what comes after. Thanks to our boats' luxury equipment, you will be able to spend onboard the best honeymoon possible, during the days you need, with a skipper and all the services so that you do not miss anything on this dream trip.
Wedding anniversary: ​​and if what you want is to celebrate a special anniversary, such as an anniversary as a couple or a Silver or Golden Wedding, our boats are also the perfect setting to do so
Birthday parties: having a birthday at sea, age weighs less. And the party is more enjoyable: there is no more spectacular setting than our yachts or catamarans to blow out the candles, open gifts and enjoy the best company.
Company incentives: boat rental in Andalusia is not limited to individuals, far from it. Any company can use our boats to organize incentive experiences or team-building activities, thus promoting the cohesion of the organization's members.
Company lunches and dinners: organized by the company or by its employees, lunch or dinner at sea with co-workers is the best way to congratulate each other on Christmas, celebrate the achievement of objectives, or any other work reason.
Tasting of wine and other products: who said that to taste a good wine, you had to go exclusively to a winery? Our boats have enough space and amenities to organize a tasting of this product or any other food from the region, such as ham or olive oil.
The best boats and yachts for rent in Andalusia
CONTACT US FOR

More information and Reservations